Dear colleagues,
We are pleased to invite you to the WFAS 2019 World Acupuncture and Moksibusyon Symposium to be held at Kaya Palazzo Belek Hotel & Congress Center between 14 - 17 November 2019 . The theme of this year's congress is ET International Acupuncture and GETAT Consensus ası .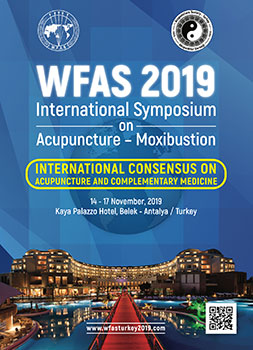 WFAS symposiums are organized every year by bringing together health professionals working in acupuncture and GETAT fields all over the world, sharing current knowledge and developments, learning new techniques and modern practices and aiming to obtain theoretical and practical knowledge that will contribute to daily workflows by returning to their homes.
Main sessions, keynote speeches within the scientific program to develop the techniques used by the participants in their daily routine and to increase their success rates.
panel discussions, courses and sessions on the practice of traditional and complementary medicine practices with acupuncture, moxibulation and clinical practice in clinical practice. We believe that our symposium, which will give us the opportunity to renew our current knowledge with current information and clinical practices, will be a very good opportunity to clarify the issues that are exposed with interactive discussions.
Located on the southern coast of Turkey and "The Pearl of the Mediterranean" called Antalya, Anatolia is one of the first settlements, as you know. It exhibits its historical heritage with its magnificent ancient theaters, temples and ruins. There are many ancient cities in Antalya that have been preserved until today, which is home to Lycians, Romans, Greeks and Turks in history. Antalya is also one of the most popular tourist centers of the Mediterranean with its historical heritage and a living city and it hosts millions of tourists every year. Along the coast, golden sand and blue flag beaches can be swim throughout the year. When you are tired of scientific meetings, you can try the most delicious tastes of Mediterranean cuisine by taking a breath at the seaside.
We hope that there will be a close dialogue between the participants, the exchange of information and ideas, the establishment of collaborations, and most importantly, a congress where friendships are strengthened. We invite you to have a pleasant social environment, rich scientific content and a comfortable and warm environment where you can feel at home. Your participation and support will be our strength.